Connect's Framework for Success
We're rolling out a new Customer Success Framework here at Connect Childcare. We made a promise to our nurseries that we'd support them to help them get the most from our software. To help us fulfil this promise we are making some changes to our processes.
Here's what you need to know…
We pledge to be more proactive.
We want to make sure we're providing you with the best service possible, so even if you haven't raised a ticket with us, we'd like to talk to you! Our CSCs will call you, once a quarter to find out if there is anything we can do to improve on our service to you.
We'll send you regular tips to make sure you're using the system to it's full potential.
And, we'll be starting free Learn & Share sessions.
These sessions will be attended by one of our experienced Trainers, and a Customer Success Consultant – bringing you a wealth of knowledge. We'll be able to offer you face to face support and training as well as getting your feedback. You'll also have the opportunity to network with other Connect users, learn from each other and share your own knowledge too.
These sessions will start at our HQ in Lancashire, and once we've proved their success, we'll roll them out to different areas across the UK.
Interested in taking part? Let us know by completing this quick form – or have a chat to us when we call you!
What do we need from you?
We need your feedback!
We will trial this new approach for 6 months, but the only way we can measure success is to get input from you and your team.
Every three months we'll send you a one-question survey that looks a bit like this…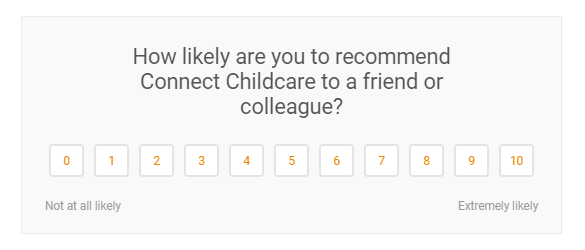 We'd like you to complete it and be completely honest!
It's the best way to help us improve.
That's all for now.